Fosse Healthcare Launch New ATS and Careers Website
Fosse Healthcare, one of the leading healthcare providers in the UK, has recently unveiled its cutting-edge applicant tracking system (ATS) and a revamped careers website. The successful implementation of these new tools was made possible through collaboration with Recruitive, a recruitment software specialist. This strategic partnership marks a significant milestone for both organisations as they work together to help in streamlining the recruitment processes and enhancing the overall candidate experience.
Founded in 2002, Fosse Healthcare has been dedicated to delivering exceptional home care, care home, and healthcare services to both the public and private sectors. With a team of experienced healthcare professionals at the helm, including the Chairman of the UK's largest provider of integrated healthcare and a distinguished professor of Neuro Rehabilitation and Advanced Nursing Practice, Fosse Healthcare is committed to ensuring the highest standards of care for its patients.
Fosse Healthcare's journey with Recruitive began in 2021 when the company recognised the need for an efficient and comprehensive ATS solution. The decision was influenced by a new team member who had prior experience using Recruitive's ATS and witnessed its positive impact on recruitment processes. At that time, Fosse Healthcare relied on multiple systems to manage their recruitment, lacking a dedicated ATS, while their website was managed by a third-party service provider.
Through a series of productive meetings and discussions, Fosse Healthcare and Recruitive collaborated closely to identify the organisation's unique requirements. Consequently, an order was placed for a full-fledged ATS, encompassing a range of features such as multi-job posting to selected job boards, a Hiring Manager portal, an onboarding portal, a branded careers section on their website, and a candidate portal. The ambitious project was officially launched in early 2022, marking a significant milestone in Fosse Healthcare's digital transformation.
Following the successful implementation of the new ATS and witnessing the tangible benefits it brought to their recruitment processes, Fosse Healthcare decided to further expand its collaboration with Recruitive. Their next goal was to revamp and manage their full corporate website, elevating their online presence and user experience. With Recruitive's expertise in website design and development, the project was initiated and completed in the autumn of 2022, marking another milestone in Fosse Healthcare's digital journey.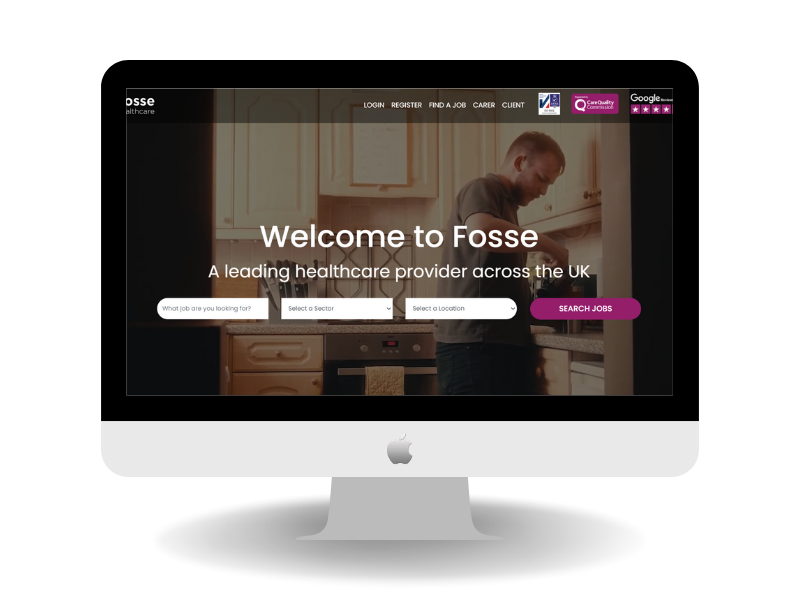 The new applicant tracking system and careers website have revolutionised Fosse Healthcare's recruitment processes, making them more efficient, streamlined, and user-friendly. The integration of the ATS allows for a seamless job posting to targeted job boards, providing greater visibility and reach for their vacancies. The Hiring Manager portal empowers Fosse Healthcare's recruitment team with advanced tools to effectively manage and track applications, ensuring a smooth and timely hiring process. Additionally, the branded careers section on their website and the candidate portal contribute to an enhanced candidate experience, promoting Fosse Healthcare as an employer of choice within the healthcare industry.
Furthermore, Fosse Healthcare and Recruitive are excited to announce their partnership in creating a video case study highlighting their successful collaboration! This video case study aims to provide an in-depth understanding of Fosse Healthcare's journey and will feature an exclusive interview with Fosse Healthcare's Marketing Manager, Luke shedding light on the recruitment challenges, solutions, and outcomes. 
For more information and to watch the video case study, please visit our channel. Stay tuned for this exclusive interview, as Recruitive and Fosse Healthcare share their collaborative journey towards transforming recruitment processes and elevating candidate experiences in the healthcare industry.
Visit Fosse Healthcare's Careers Website.
Share this post and follow us on social media!
Like our blogs? Sign up for our newsletter