Candidate Portal
Enhance candidate engagement, reduce candidate drop off while minimising cost and time per hire with a candidate portal.
Increase Candidate Engagement
The candidate portal is one of Recruitives newest ATS features which allows a candidate to track their journey through the hiring and on-boarding processes.
This feature is fully integrated within the main recruitment solution via your website with brand integrity and protection throughout.
The user-friendly system enables a candidate to register/login, complete applications, track application status, receive updates, upload and electronically sign relevant documentation, build and update their profile all in one place.

Features:
Application Tracking
Candidates can view in real-time the progression of their application on the portal dashboard. Application progression options are available for the client to manage through the main ATS system.
Mobile Responsive
The candidate portal is built to be mobile compatible on all devices.
Fully Branded and White Labelled To The client
Your branding is maintained throughout the candidate portal to adhere to your organisation's marketing guideline.
Domain
The portal is hosted on your unique domain.
SSL Certificate
The portal has an SSL certificate that verifies it as a secure and authentic platform to use.
Dashboard
The candidate portal opens to a user-friendly dashboard for the candidate to navigate to their desired location.
Jobs – Applied and Live Job Listings
Candidates can view submitted applications and search the clients' Live Jobs.
Job Alerts
Candidates can set up to receive job alerts from the client's website postings.
Upload Documentation
You can request relevant documentation to be uploaded by the candidate through the main ATS.
Email Centre
The candidate can compose, review and reply to emails in the email centre. Automated emails can be generated to be sent to candidates.
About Us Section
You can feature a company video on the dashboard as well as other relevant information and documentation under headers within the About Us section.
Candidate Profile
Candidates can complete and update their profile with relevant personal information.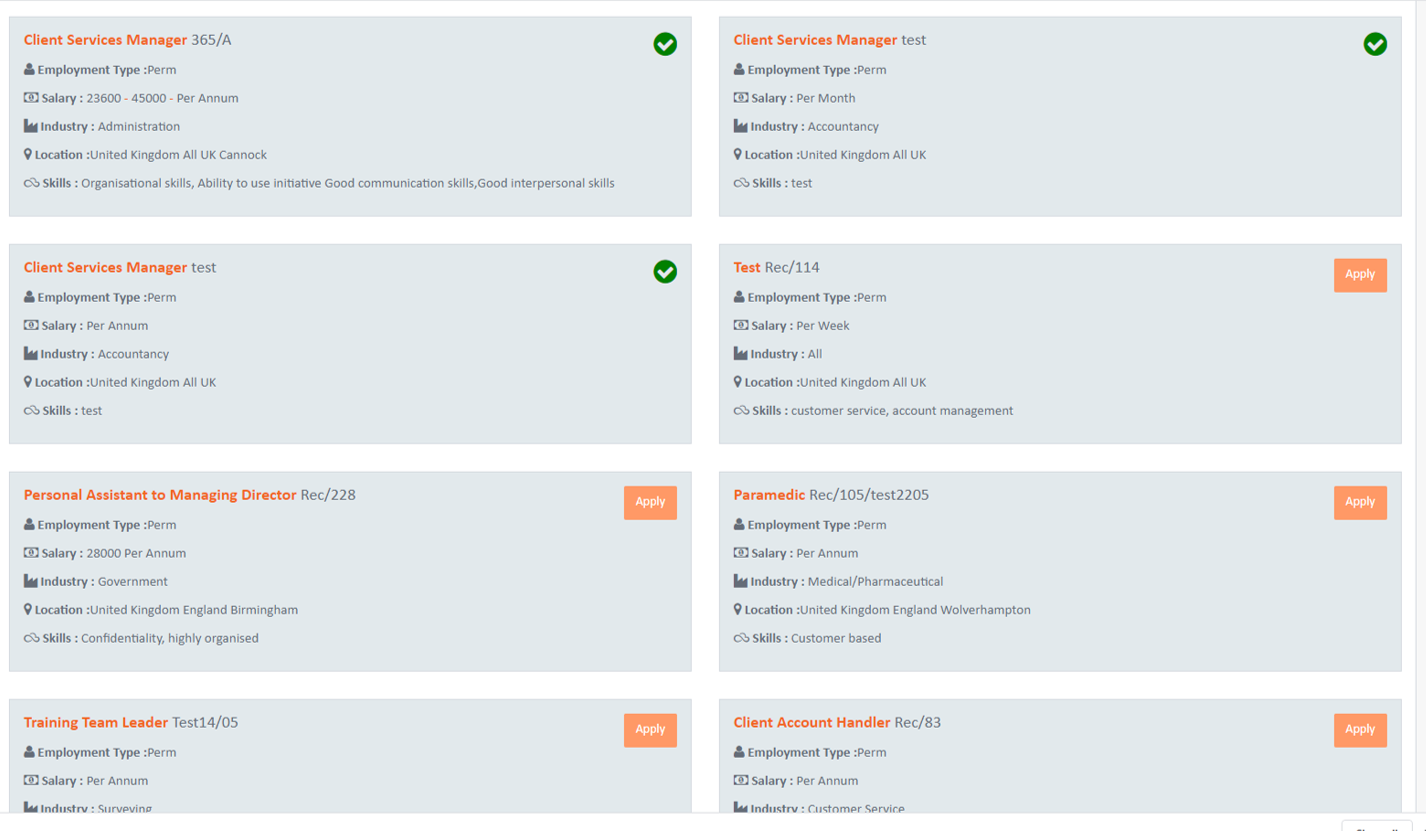 Additional Features:
Online Numeracy & Literacy Tests
Create Login's Through Social Media
We work with our clients to create an environment suited to their needs, providing a system which is simple to use but has all the functionality they require.
We also supply a range of additional aftercare services with the launch of all our products. Find out more here.
Please complete the form below for a no-obligation discussion and/or consultation. You can also download our full brochure here.
Designed for HR, Recruitment Teams and Hiring Managers whilst significantly enhancing the candidate journey.
A white labelled solution in your own branding, tailored to your exact requirements, and designed to…
Reduce time to hire
Reduce cost per hire
Enhance the candidate journey
Contact us for a detailed consultation