Take a look at the careers section of your company's website, would it be professional and attractive enough to make YOU want to apply?
First impressions count for so much and, while your website might be good enough to catch the eye of a customer or client looking to purchase your goods or services, the careers section doesn't do the same with candidates looking for a new position.
To land the big fish you need to dangle the right bait. We've seen so many websites let down by the careers section. Candidates will click on the link and be greeted by a bland pop-up or get taken off somewhere else, to a separate site that doesn't share the company branding and are left wondering if they are still applying for your company. Never forget: in business image is everything!
The new page or site they are taken to may be clunky and slow, and not very easy on the eye. There could be a disorganised list of jobs, or a search box which may only produce results for overseas opportunities because the candidate hasn't specified exactly where they want to work. Is any of this starting to sound familiar?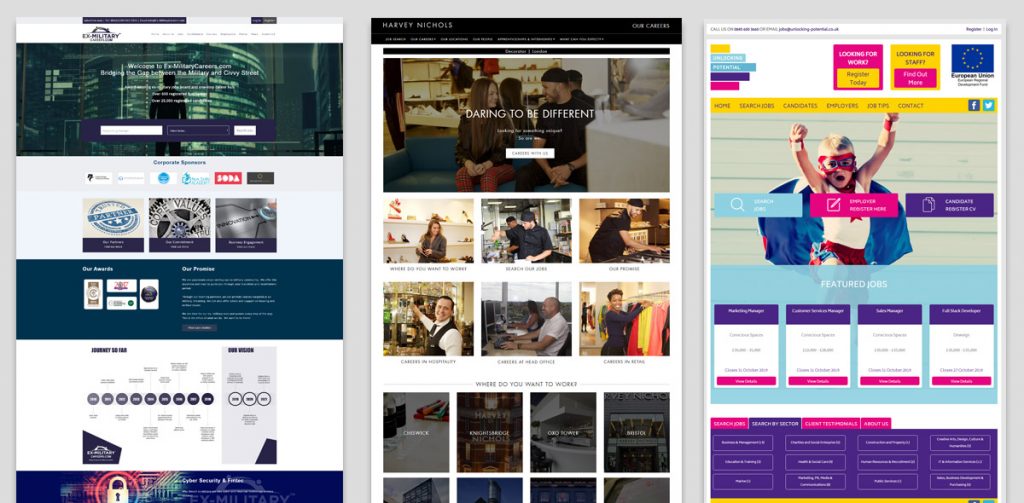 Its simply not good enough to add a recruitment software plug-in to your site. It's not good enough to believe SEO is a thing of the past or forget about proper indexing – how are you going to be found by the search engines? It's not good enough (and not legal) to ignore the security of the personal data a candidate wants to share with you.
Below are our top 10 tips for creating a great careers site – and we should know, it's what we do!
Make sure the website follows your brand and styling – many careers websites use a template or plug in from their ATS system. These often open in pop-up windows, or bear no resemblance to the design of the main website branding. The design of most templates is very basic. Make sure it is not just an afterthought.
Make sure the website is responsive – a good careers website should look great and operate effectively on both wide screen monitors but also on mobile devices. The style and functionality should be retained across all devices. Static mobile websites are fine to a certain extent but being responsive is the better option.
Make sure the website is secure via SSL – a careers website should be secure. This gives the user comfort when using the website and it also conforms to Google's regulations for good search engine positioning.
Make sure navigation to the jobs through the careers website is simple and seamless – some careers websites use an embedded iFrame to display the jobs from their ATS system. These often have no styling and are just dropped into the website. There is often very little control as to how they look or operate. The jobs should be easily accessible and display within the main browser window.
Make sure the job search is mobile compatible – because many websites use a plug in, the jobs are often just presented as a fixed list of jobs. The user must be able to undertake a meaningful search and be able to filter the results quickly on a mobile device. Being able to filter through a large amount of jobs is important. The user should be able to filter through sectors, jobs titles and locations.
Make sure the jobs exist and display within your careers website – using a jobs plug in, iFrame or template jobs system, hosted elsewhere from your ATS supplier will result in a big drop off of candidates using your website, especially on mobile devices. It is important to keep the user within your website without having to negotiate popup windows. Make sure the users flow through your website quickly and seamlessly.
Make sure your jobs are search engine compatible – you need to ensure that your jobs can actually be found, so make sure the search engines can read them and index them into their search results. Make sure the URL of your jobs include the job title and location. Make sure the Meta Tags are meaningful and also include the job title and location. Make sure there is a dedicated website map for your jobs section.
Make sure your jobs are listed in external XML feeds – you need to be able to distribute your jobs to different platforms and XML feeds are the best way to do this. Many jobs search engines will accept the inclusion of your jobs via XML feed. This will increase the spread of your jobs across different networks.
Make sure you integrate with Google Jobs – Google jobs is a relatively new feature of Google. It accepts jobs into its jobs search engine via a dedicated XML map. Your jobs database has to match Google's requirements, in terms of locations, description and salary details. Once this is done you can then link your jobs to Google and it will parse your jobs map and include your jobs into its searches.
Make sure your website has good quality content and imagery – you need to show potential employees that your business is one worth working for. The best way to do this is to include case studies, videos, careers advice and any other information that makes you stand out from the crowd. You also need to make sure that you create the correct Meta data for the search engines, so your content can be found.
Now let's go back to the question above: imagine you are a potential candidate looking for an opportunity in your industry sector and you have a shortlist of companies you think you'd like to work for, who would you choose? The company with the slick, professional site that carries you effortlessly into a fully functional, responsive, interactive and secure careers section that is actually part of the website itself?
Or yours?
Why not Take Part in Our Survey about your careers website.
Don't get crossed off the shortlist, be the only name on it!